Governance is an important part of the school's leadership
The governance structure comprises the following: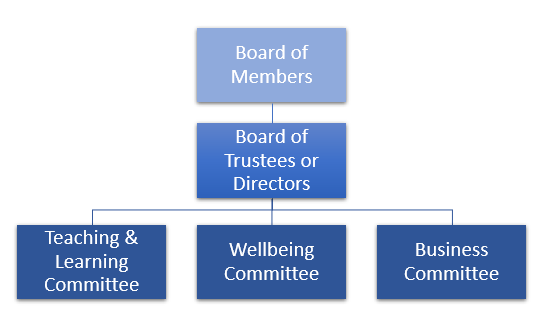 At Huish Episcopi Academy our school Governors are called Directors or Trustees, and the Governing Body is the Board of Directors or Trustees.
The Directors Role
"The role of the Director is largely a thinking and questioning role, not a doing role."
As the largest voluntary body in the UK, school governance has three core functions in order to provide the highest standards of education:
Ensuring clarity of vision, ethos and strategic direction
Holding the Principal (Headteacher) to account for the educational performance of the Academy and its pupils
Overseeing the financial performance of the Academy and ensuring financial probity
A Director's role is to advise and support the Principal and other members of the Senior Leadership Team by acting as a 'critical friend'.
The work of the Board of Directors is broken down in to committees, monitoring specific areas:
Teaching & Learning
Wellbeing
Business
In addition, there may be a number of working groups researching and advising on matters such as the Strategic Direction of the Academy, Directors' training and marketing. Directors also play an important role in the interviewing and appointment of senior members of staff.
Directors have the facility and responsibility to visit the Academy to witness its day-to-day activities, in order to assess and understand the progress made, and the issues encountered by the Senior Leadership Team. These visits are arranged in conjunction with the relevant members of the leadership team and are structured in a way that is not disruptive to the Academy's daily activities.
There are also mechanisms to allow Directors and the Senior Leadership Team to meet regularly with parents, students and other users to discuss any issues or suggestions they may have. There is routine interaction with teachers and staff, and also parents and pupils, during visits and events in the school calendar such as Prize Giving, concerts and theatrical productions. In addition, Directors have the opportunity to link with a department within the Academy to better understand its workings. All of these extend the Directors' understanding of how the Academy is performing which in turn helps to steer the strategic direction of the Academy.
Why Become a Director?
If you have an interest in helping Huish to become the best Academy possible in terms of providing education for young people from 11-16 years of age and at Huish Sixth, then offering your services as a Director will allow you to contribute directly to this end.
If you had a good experience of education you may be driven by wanting to contribute to a similar experience for today's young people; equally if your experience was less than good you may wish to contribute to improve the educational experience of students today.
The Composition of the Board of Directors
There are up to eighteen Directors of Huish Epsicopi Academy - up to three drawn from the Academy staff, a minimum of two drawn from parents and the remainder drawn from the local community who bring with them skills and experience relevant to the role. The term of office for all Directors is four years, and Directors are registered with Companies House.
Parent Directors - are elected by the parents of students at the Academy.
Co-Opted Directors - are approved by the Board. These are people with a particular skill set such as financial, business or legal acumen, or other experience and qualifications which will help them assist in the decision-making processes of the Board.
What Does the Directors Role Involve?
There is an expectation that you attend Full Board meetings - normally one per term
You will be asked to sit on one or two committees, as well as working groups as issues arise.
Induction and on-going training is provided, some of which - such as that related to child protection/safeguarding, is mandatory.
A committed Director will ordinarily attend at least three routine, typically, two hour meetings per term, with approximately 2 hours of pre-reading and preparation (consideration of the issues) in your own time required. Academy visits are approximately one half day per term, plus a couple of evenings annually at events such as Prize Giving. You may, later be encouraged to take more lead roles within the Full Board such as Chair or Vice-Chair of one of the committees or working groups.
All Directors are encouraged to make active contributions to all meetings.
What Would You Gain?
First and foremost, opportunities to help shape the education of our local young people, with a view to giving them a greater chance of a successful ongoing career, whatever their interests.
Huge personal satisfaction that you have been involved in the development of the Academy and the students' education.
Personal development opportunities to gain some skills and experience that your working life may not have provided. These may contribute to your ability to enhance your own work experience and will certainly broaden your skill set.
Involvement in the management and improvement of one of the area's largest businesses.
If anything above prompts you to offer your services as a Director of the Academy, please contact our Clerk to the Board of Directors, Mrs Gill Keene, at GillKeene@hea.ac.uk adding 'DIRECTOR INFORMATION' in the subject line. Please let us know if you would like to chat with our current Chair of the Board of Directors.